Love and kindness are never wasted, they always make the difference
– Helen James
It's Valentine's day and love is in the air.
This is one of the best opportunities to teach children about love.
Love is not something that you just talk about, love is just something that you do. It's not enough to tell children what love is, help them show love in practical ways.
Here are 5 practical ways to teach your students about love:
1. Love cards
Give your students cards on which they can then write their positive messages. They can then choose to trade cards with their friends or place them secretly in books for their friends to find. They can also take cards home to give to their parents or siblings to express how much they love them.
2. Love jars
Get a jar for each student in your class an write their names. Each time a child performs an act of love or kindness, write the act on a piece of paper and put it in his or her jar. Celebrate each child when they fill their jar. You can give a gift, a star or just celebrating them in front of the class.
3. Love in action
This is an interesting activity where you call out your students in pairs and then ask each child to express love to the other child without saying a word. Trust me this one especially is fun. For instance, hugging other children, helping others with their homework, helping their friends when they fall, etc.
4. Love notes
Have each child write something nice about everyone in the class on a small piece of paper. Then they hand over the love notes to back to their classmates. This means in a class of 15 children each child will get 14 love notes. This will surely bring smiles on their faces as they read the nice things written about them by their classmates.
5. Love in the community
Ask each child to bring something from home to give to the less privileged in the community. This could range from foodstuffs, old clothing, toiletries, old toys to something valuable to them. Organize an outing to an orphanage home or a less privileged school in the community where they can give out these items. Bringing smiles and joy to other people is one of the ways we show love.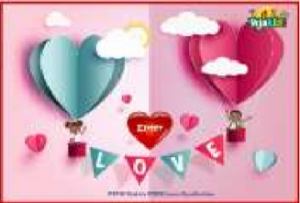 Download the 9ijakids app to access 10 FREE educational games for 30 days. 
Limited time offer.
Don't miss out!!!