Believe it or not, there are loads of fun places to take your children to in Lagos. That's why we have come up with a bucket list of fun places you must experience with your children.
A "bucket list" is a list of goals you want to achieve, and life experiences you desire to experience especially with your kids. These are surely fun things you should consider either during festive period like Christmas, summer holiday break or just a weekend getaway with your family.

Dreamworld Africana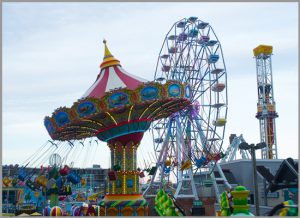 Dreamworld Africana is situated at KM 20 Lekki-Ajah Epressway Lagos. It just after the 2nd Lekki toll gate, a major landmark to look out for is the Orchid Hotel. The park has lots of rides including a roller coaster, carousel, ferries wheel, bumper cars, go-karts, games arcade, bouncy castles, etc. It also has a swimming area and water slides to make that big splash. To enter you pay an entry fee that ranges but usually starts from N1000. You then pay for each ride or you can purchase an ALL DAY RIDES access for about N3500. Great fun at an affordable price. These Children's Day tickets are all-inclusive at N2000 for children and N1,500 for adults.
Rufus and Bee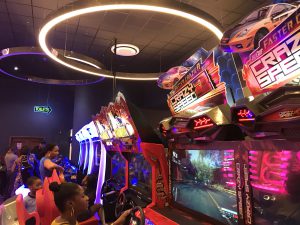 Looking for where to go bowling? Then Rufus and Bee is just the place. Rufus and Bee is a games arcade, restaurant, bowling alley and sports bar all wrapped up in one. It is located in Lekki off Remi Olowude, Lekki, (2nd roundabout). The games arcade is packed with lots of different games – football, shooting, cars, basketball, etc. It's like letting a child loose in a candy store. You purchase a card worth N1,000 and buy points on the card from as low as N5,000 (55chips) to as high as N30,000 (405 chips). This is a must-visit destination for the family. You won't regret it.
Hi-Impact Planet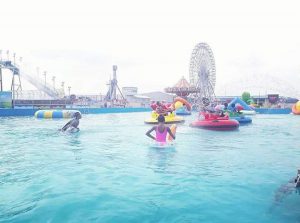 Hi-Impact Planet is an amusement theme park and resort on the outskirts of Lagos along the Lagos–Ibadan Expressway – KM 12 Lagos Ibadan Expressway Ibafo. It a stone throw from MFM Prayer City. I have to admit that this theme park is packed. Been here at least 3 times and we still didnt get to do everything even though we got there as they opened. There are indoor games arcade with lots of games, rides, bumper cars, ice skating, Ferris wheel, carousel, go kart, train rides and an indoor 4D cinema. It now has a swimming area and water slides. It also boasts of accommodations for out of town guests and if you want to maximize the holiday and stay over (Our own little disneyland).
Entrance fee is N5000 and you have to pay for the games. You have two options – either pay as you play or buy an all access package (HIP Regular or Combo). The package ranges from N15,000 to N25,000. The costs for the individual games range from N500 to N2500. For adrenaline junkies – the Enterprise Ride is a MUST!!!
Omu Resort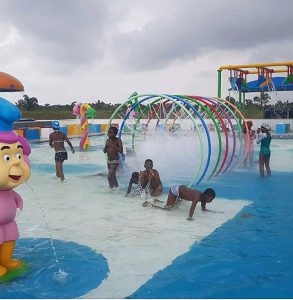 Omu resort is unique in that it's a combination of a mini zoo, seaworld, wax museum and an amusement park. It is located at 1, Omu Resort Drive, Bogije Town Lagos. Depending on where you are coming from it's a bit of distance – its after Awoyaya and Lakowe. Omu Resort has a wide range of fun activities – zoo, wax museum, rides, mechanical bull riding, horse riding, waterpark, paintballing, quad bikes, roller skating, kayaking and go-karts. Honestly, we enjoyed every bit of our visit and are planning to go again.
Their tickets cover both entry and access to games. They have three main packages ranging from N3000 to N8000 per person. If you are up to 5 people, I advice you ask for the family package to get a discount.
Funderland Mall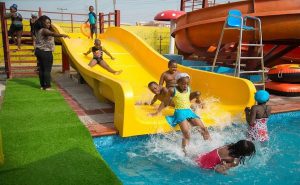 Located inside Funderland Mall at 16/18 Lekki- Epe Expressway opposite Mega Chicken (between Chevron and VGC) the Mall is home to DCube Skating Rinks, Trotter and Pop Water Park. Together they offer you fun games, rock climbing, pony ride, swimming pool, slides and indoor skating. Price ranges for the rides and skating – N1000 to N2500.
Funtopia Water Park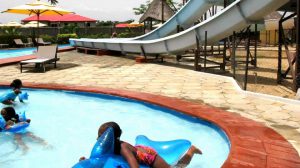 Funtopia Leisure Resort is located at Km 35, Lekki-Epe Express Way, opposite Pan African University just a few minutes away from Victoria Garden City. This is the only place on my bucket list am yet to take my kids to and I hope strike off during the mid term break. Funtopia is a water park that offers 3 water slides, swimming area, games room, snack bar and bouncy castle,
Apapa Amusement Park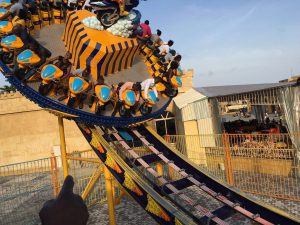 Apapa Amusement Park is located at 34 Randle Street Apapa. This amusement park boasts of bumper cars, carousel, air bicycle, mini football pitch, mini ferris wheel, roller coasters, indoor arcades and a number of other rides. I love the Pirate Ship and Fruit Worm the best. The indoor games arcade has lots of fun for the kids especially the younger ones. There is no entrance fee, you pay for each ride. Prices range from N400 to N1500. You can buy a card and load as much money on it for the various rides and card can be used another.
Fun Factory Lekki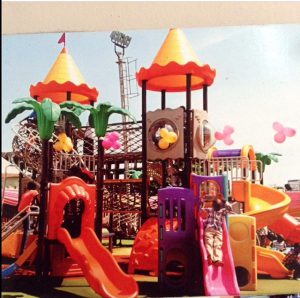 Fun Factory is located on Admiralty Way Lekki Phase 1 (enter from Lekki first gate). Its mainly an outdoor fun place to take the kids for a relaxed weekend and to burn off their excess energy. It has outdoor slides, rides, a little pool and space for the little ones to run around. A great venue for children's events and outdoor parties. Entrance fee is typically N3000 per person for 100% acesss to the place and its facilities.
Lekki Conservation Centre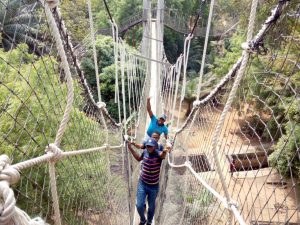 Take a step away from your typical fun parks and rides and enjoy the beauty of nature with Lekki Conservation Centre. Lekki Conservation Center is located at KM 19, Lekki-Epe Expressway – not too far from Chevron and just before the 2nd Lekki Tollgate. Children will enjoy the walk, seeing nature and also seeing the monkeys, the 95yr old tortoise, peacocks, crocodiles and other animals. Make sure you go on the canopy walk and climb the tree house. Gate Fee is N200 for children and N1000 for adults i. Access to the Lekki Conservation Centre Canopy Walk cost an extra N1000
The Beach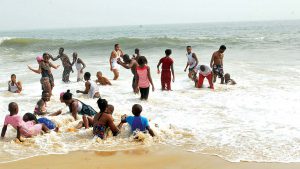 I am not sure this list would be complete without including the beach. Lagos is blessed with beaches, and you can choose from a selection of beaches if you would like to spend a day at the beach having a picnic, drinking coconuts, surfing and lots of water fun. Badagry. Eleko, Elegushi, Oniru, Atican beaches are some to name a few. If you are up for more adventure, take a boat ride to Tarkwa Bay. Tarkwa Bay is an island and only accessible by boats. It's a 15-20mins by boat with the boat ride costing N1500 to N2500 one way. Entry fee for most beaches are between N1000 to N2000 and you will need some extra money to rent tents, chairs, tables, etc.