As we celebrate International Women's Day and the impact of women in the society. One of the key things to promote is gender equality.
Over the years, we have role models that have fought and made waves with their works.
Here are a few extraordinary women and their works:
1. Funmilayo Ransome-Kuti: Kuti was an activist, teacher, political campaigner, and founder of the Nigerian Women's Union. She is the first woman to drive a car in the entire country.
2. Margaret Ekpo: Nigeria's first female political activist. She is credited with helping women insert themselves into the First Republic.
3. Florence Nwapa: She is the first female writer in the country. She is also Africa's first female novelist to have internationally published work in English language.
4. Elizabeth Abimbola Awoliyi: Awoliyi is the first female physician to practice in Nigeria. She is also the first West African woman to earn a license of Royal Surgeon in Dublin.
5. General Aderonke Kale: She is the first female army major-general in Nigeria. She enlisted in the army after becoming a medical doctor.
6. Adetowun Ogunsheye: She is Nigeria's first female professor and the first female dean of a faculty.
7. Virginia Etiaba: She is the first female governor in Nigeria's history. She was the governor of Anambra from November 2006 to February 2007.
8. Grace Alele Williams: Williams was one of the first Nigerian women to obtain a Ph.D. in Mathematics. She is also the first female vice-chancellor in Nigeria.
9. Sarah Nnadzwa Jibril: She is Nigeria's first female presidential candidate both at the primaries and main elections. She contested to be president on four separate occasions. Jubril also served as the Special Adviser to President Goodluck Jonathan on ethics and moral values.
10. Folake Solanke: She is the first woman to join the Senior Advocates of Nigeria (SAN). 38 years later, women make up only 4.2% of the entire organization.
11. Captain Chinyere Kalu: Nigeria's first female pilot. She is also the first female commercial pilot in the nation.
12. Sandra Aguebor-Ekperuoh: Ekperuoh is the first female mechanic in Nigeria. She is empowering sexually abused and underprivileged women with her non-profit organization - the Lady Mechanic Initiative of Nigeria.
13. Agbani Darego: She is the first woman from Nigeria and Africa to win the Miss World crown.
14. Mosunmola Abudu: She is popularly known as Mo Abudu. She is the first woman to own a pan-African TV channel in Nigeria and the rest of the continent.
15. Chimamanda Adichie: Nigerian Feminist, Novelist, and Author who is known as a fierce campaigner for equal gender rights and women empowerment.
16. Queen Amina of Zaria: Commonly known as the warrior queen, expanded the territory of the Hausa people of north Africa to the largest borders in history.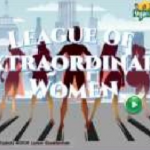 Download 9ijakids app TODAY for FREE to enjoy 30 days trial.