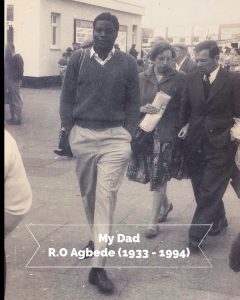 It's been almost 25yrs since my father passed but I still remember him like yesterday. Growing up, all my major fun adventures were all with my Dad??. They might not of been as frequent as outings with my Mum ??but they were always OTT (Over the Top). I guess my Mum being the "family treasurer and accountant" was always about family fun on a budget ????.
My Dad took us to watch plays? at National Theatre, went for meals? at Federal Place Hotel, took us for Eyo Festival? at Lagos Island, etc.
He took us for airforce and army displays and parades at Racecourse at night on a school day. We had much stories to tell our classmates the next day. It was my Dad that took us shopping to UTC and where we could pick anything we wanted. With my Dad, there was never anything like fun on a budget ??.
Daddy bought us Suya(back in the days Suya was a big deal). We went to watch boxing matches even though I didn't like boxing but it was an excuse to go out at night.
He allowed us scratch his back and plait his hair to earn our allowance. If you can imagine?? 4 kids plaiting your hair at the same time and the challenge of combing out the "plaits" and knots afterwards, then you might just might understand the love and sacrifice ??.
It was my Dad that attended and was present at every single school event. It was my Dad that ensured my sister learnt how to drive ? after she sneaked out the car on her own. My sister became the coolest kid on the block because she learnt to drive before most of the boys her age in our neighbourhood . And, I was the baby sister of the Cool ?Sister. ??.
My Dad bought us our Chopper bike, if you had a chopper bike in those days you had "arrived".
Daddy taught me physics. I used to be amazed how how he would come back from work, read the question and show me how to solve it step by step without referring to the textbook ? he just knew the principles. With all the google and internet I will struggle to solve a physics problem without reading.
My father was wasn't a perfect man but he was an awesome Dad.
Happy Fathers Day to all the awesome Dad out there.