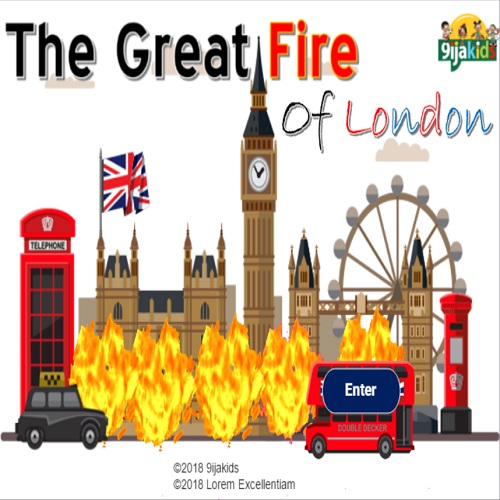 Access for Registered Users Only. Register To Play for Free !!!
Lets take you back in time to London and the year 1966. It was the year of the Great Fire of London. Do you know about the fire? Well, if you do, play this fun game to see if you can help quench the fire.
A game to teach children about their private and public parts, good and bad touch
Welcome to the 9ijakids Democracy Game. How much do you know about Nigeria's ...
Test your skills against the enemy in this battle and learn all about tenacity. Your...
Let the children learn a little about Nigerian Foods and what people eat in different states
Want your children to be polite and courteous? Want them to know...
How honest are you? Let's see how you fare on our honesty meter in out courtroom.
At 9ijakids, we jump out of bed each morning because we want our children to be proudly Nigerian, successful entrepreneurs, lovers of God and to take the world by storm.
While others are busy training children to be employees, we are inspiring children to be successful in business, great citizens and hot for Christ.
How are we doing this you may ask? We are using games as a tool to help children develop an entrepreneurial mindset, teach them the values that make them upright Christians and make the world a better place.
© Copyright 9ijakids 2017. All Rights Reserved. 9ijakids is a trading name of Lorem Excellentium Limited, a limited company registered in Nigeria.