For all press enquiries  speaking events, press releases or game demo requests, please contact us:
Email: support@9ijakids.com or  Tel: +234 490 3385 4783
THIS DAY: We have to build pride in Nigerian children
In this interview, Titi told Daniel Obi that their intention is to build generation of children who become successful in business at same time become great citizens with right values using games as a tool to help children develop an entrepreneurial mind-set, teach them the values that make them upright. The App which contains many games makes learning in financial literacy, business, understanding Nigeria better and other areas fun.  What we are doing is to utilise technology to make learning exciting and entertaining for our children.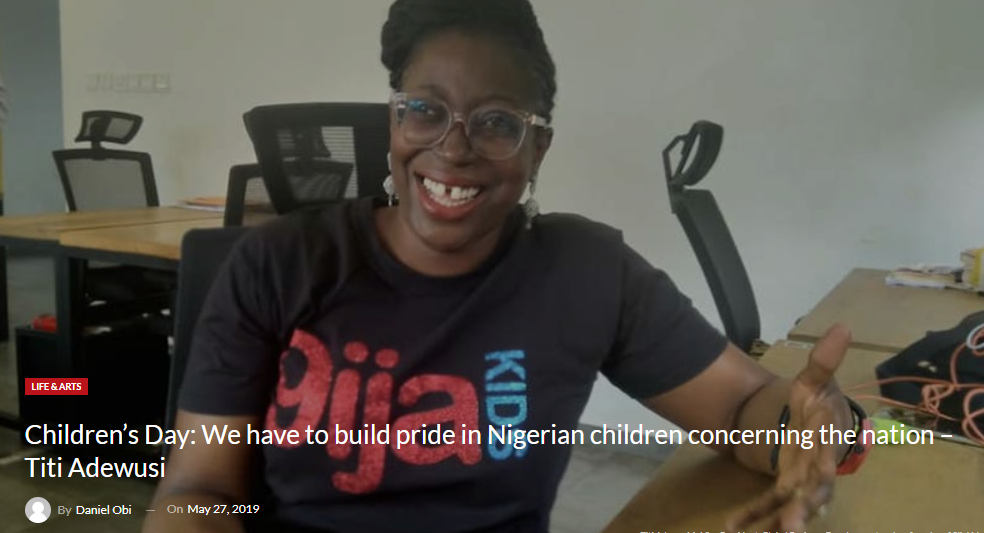 INSPIRATION FM Interview Preparing the Nigerian Child to Rule the WORLD!
The idea for 9ijakids came about from the challenges Titi experienced educating her son. He struggled to learn in school or do his homework but was a marvel at playing games. Instead of waiting for solutions to come, she decided to collaborate with her sisters to flip the problem on its head by creating games to help her son learn.
EdTech Startup Spotlight: Channels TV Interview with 9ijakids
Chatting it up with Titi Adewusi one of the co-founders of 9ijakids Games, one of the top EdTech startups in Nigeria.
In this far-ranging interview, Titi shares her thoughts on Educating the 9ijakids child,  the state of today's education method, and technology's role among students, teachers, and parents.
TECHPOINT: GAMES AS A TOOL TO TEACH CULTURE AND VALUES
Excerpt from Interview:
Asides learning about Nigeria, we decided to include games on entrepreneurship and values as well. As I moved from KPMG to The Place, I realised that the level of values in our society had become very low.
I grew up learning that integrity is more important than riches but these days, values mean nothing to a lot of people. And so we decided to make 9ijakids about learning everything Nigerian…….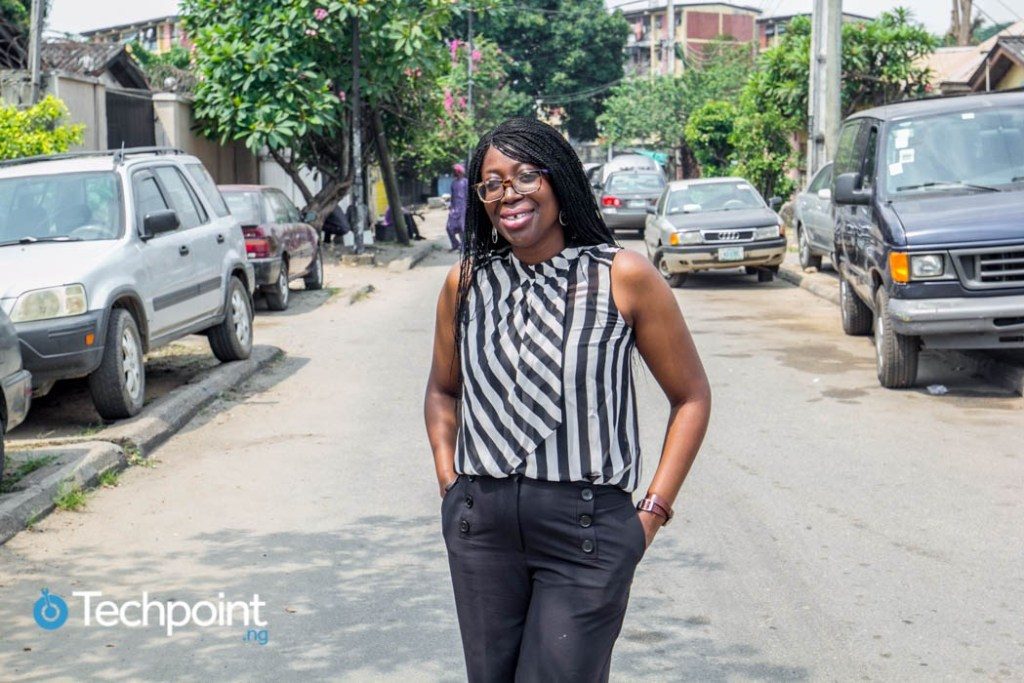 THIS DAY: 9ijakids URGES SCHOOLS TO OPTIMISE TECH INVESTMENT
Article published on Page 26 in This Day on September 6th 2018
9ijakids has called on schools to optimise their technology investments in order to equip our 21st century digital native children……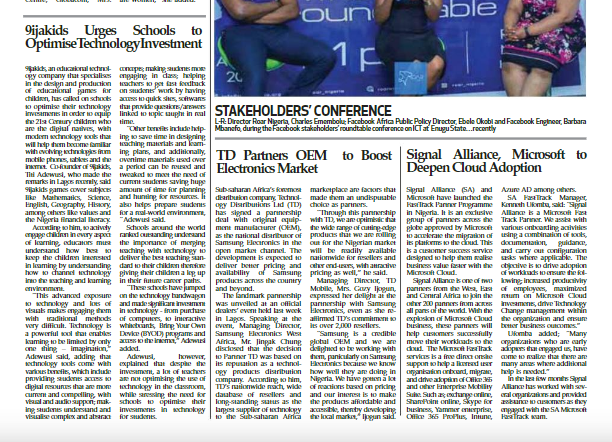 9ijakids Independence Month Challenge on BellaNaija
9ijakids is celebrating Nigeria's independence in a big way with our Independence Month Giveaway, throughout the month of October. Visit https://9ijakids.com to play the Nigerian Citizenship Game and other games that teach and educate the children about their country Nigeria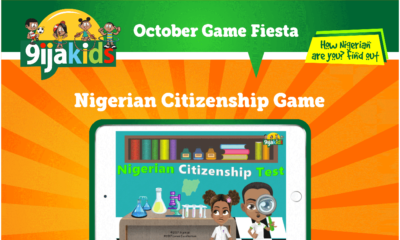 How to Make Our Kids Proudly Nigerian - lagosmums
When we were growing up, our education was filled with great heroes like Obafemi Awolowo, Tafawa Balewa, Henry Carr, Henry Townsend. There was no way you could get pass the first round of any  common entrance examination without being able to accurately recall ……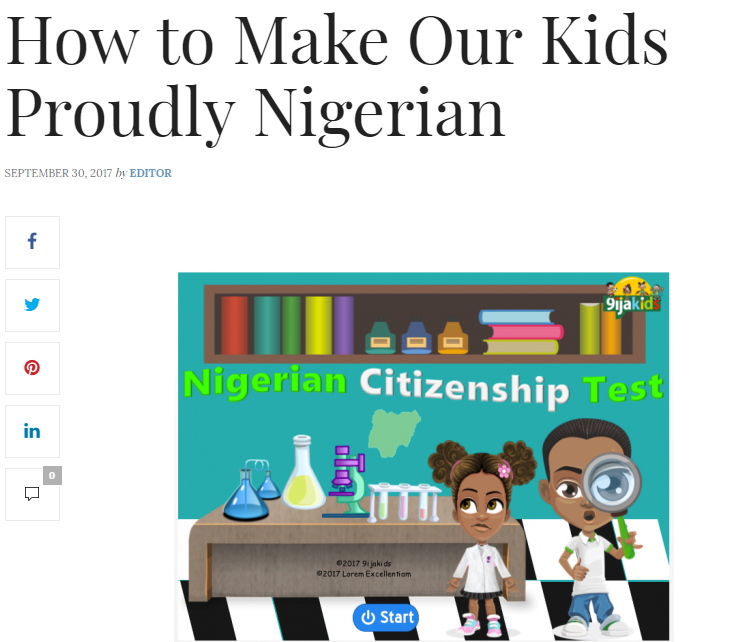 AYO ENIOLA ON MAKING EDUCATIONAL GAMES FOR KID
Life as a member of the 9ijakids Squad..
Int he summer of 2018, Ayo Eniola had the chance for work for 9ijakids, an educational game development company in her home country of Nigeria.
While there, she worked in a variety of roles ranging from editing the game storylines to programming the games themselves. We sat down with Ayo to get the full story …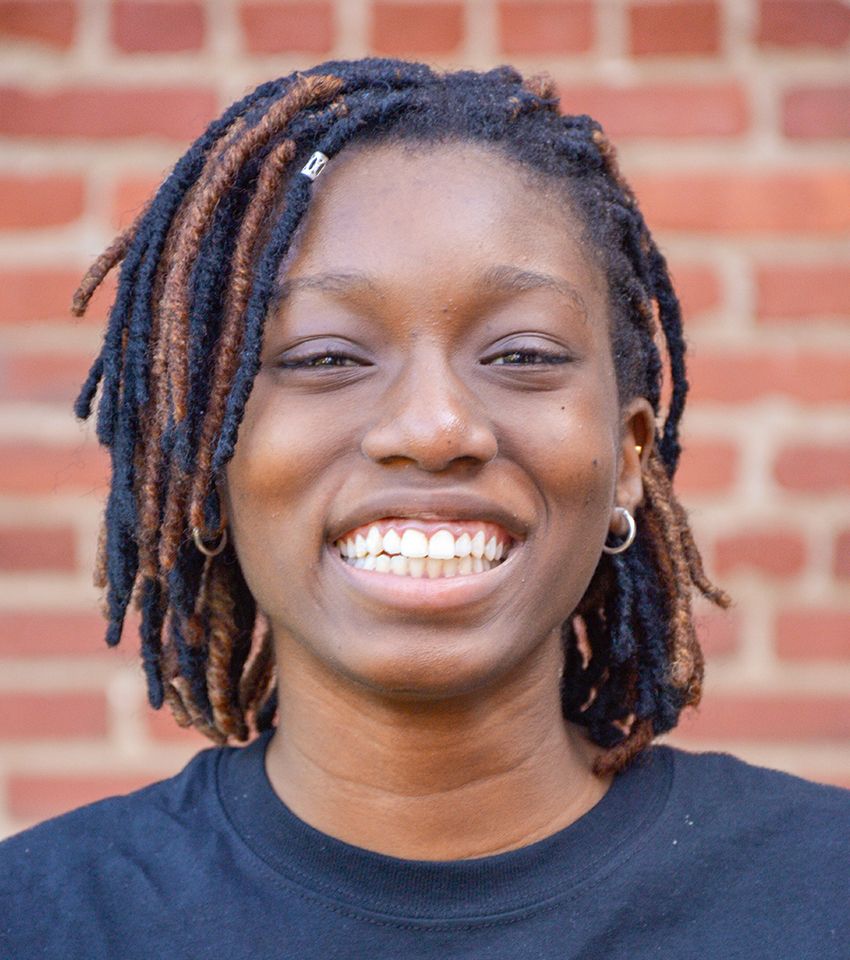 Nigeria: We have a problem
Watching children of middle class parents play 9ijakids, a Nigerian Citizenship Game, made it glaring that there is a major gap in our children's education.
The same game played by children from less privileged backgrounds revealed a different result…….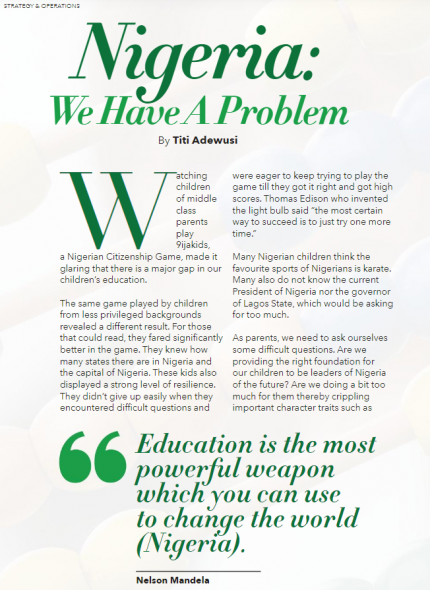 Using what digital natives love, we develop games to help children learn.
Our games are fun and cut across various topics in Maths, English, Science and values like Honesty, Bullying, Courage, Courtesy, our Nigerian heritage, Financial Literacy / Entrepreneurship and the Bible.
© Copyright 9ijakids 2019. All Rights Reserved. 9ijakids is a trading name of Lorem Excellentium Limited, a limited company registered in Nigeria.