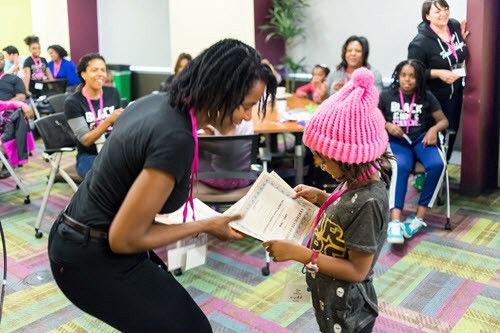 Appreciating My Child's Teacher This Valentine Season
When I try to teach my child's anything, it can be so frustrating. So, I usually wait till they have been taught in school, then I help reinforce. This has made me appreciate my son's teacher and teachers in general. Being with my own child for 8 hours tires me out, I can imagine what it looks like to manage 20 kids in a class for 8hours. You need a super human patience, honestly.
So, even though it's not Teacher Appreciation Day but valentine's season seems like a good time to teach my children about loving people and not taking people around us for granted. By watching me give gifts of love and kindness to my friends and loved ones especially in this season, they will learn the act of appreciating people who matter in their lives. Teachers are a shining star, a beaming smile, and a loving heart in the lives of our kids and making their teachers something special this season that is all about love for others is a perfect way to make them feel appreciated
Here are few tips on how you can appreciate your child's teacher this season of love with a budget of N5000 and under.
A small box of chocolates (which is around N3k) with a handmade card is a good choice. Let your child sign the card with sweet words to make the teacher feel excited and motivated. Most people love chocolates and this they can share with their own children or just eat it alone ((like I would so because I love chocolate so much)
A fruit basket. This looks simple and ordinary but trust me, they will appreciate this simple gesture because you took the time to do it. The fact your child is the one delivering it also makes it more amazing and it helps your child bond well with his/her teacher. I suggest buy N1,000 apples, N2,000 grapes and throw in a pineapple (N200) and watermelon (N900), you will remain under budget.
Buy them lunch. Teachers get tired of eating cafeteria food or bringing their lunch. Surprise them with a pizza or a cake to be delivered to them by the maker in your child's name. A medium pizza is N3500 and a little cake you can get for N4,500 (we are still within budget – yippee)
Buy them Ankara. If you notice your child's teacher loves Ankara fabric, you can get her a lovely piece of fabric – these range from at low at N2000 to N5,500. I will go with the N5k ones though, that way you are sure as she wears it, she will always remember the giver.
Are you active on social media? More teachers are on social media today. You could search them by their names on Instagram or Facebook and tag them to a post. Let them know how much you appreciate all the things they do. It doesn't always have to be about material thing
Send them an email or write a letter of appreciation. It does not have to be a novel but tell them how much you appreciate them or let them know what kind of impact they have made in your child's life. For me, this is the BEST GIFT you can give to appreciate anyone. I know I always appreciate it when someone tell me they love my work or how much what I do impacts them.
Let Valentine season not go without you showing your child how to love people that impact their lives and love them you would be surprised how this lesson will turn around and remind them to NEVER FORGET TO APPRECIATE THEIR PARENTS TOO.
If you love our posts, don't keep it to yourself, check out our other posts at https://9ijakids.com/blog and share with other parents that you think would really enjoy it too.
In case you missed them, you can check out three of our most popular posts by clicking the link below:
THE RACE IS ON!!! WHAT YOUR CHILD CAN LEARN FROM THE ELECTIONS CLICK HERE
My Son's Future Valentine . CLICK HERE
How Do You Get Kids Interested In STEM? CLICK HERE